Click HERE for complete 2022 class schedule
Learn the Art of Butchery
Learn hands on, the art of pig butchery, taught by three-time hall of fame butcher, Wurstmeister Mike Sloan. Class will be limited to 10 people on a first come, first serve basis. This event by reservation only, will be both informative and entertaining. Students will be involved in breaking down five sides of pork (approximately 450 lbs. dressed out) into chops, steaks, roasts, ribs, bacon, ham, jowl, lard, and of course sausage. Class will begin at 6 pm and last approximately 2-3 hours. You will also learn the art of:
knife sharpening
cutting
grinding
mixing
stuffing
smoking
packaging
What are the classes like?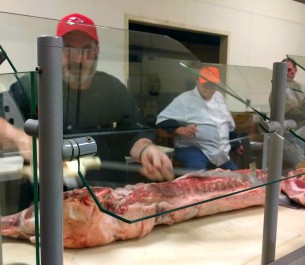 Very hands on! Come ready to wear an apron.
Designed for home butchers!
Available for friends, couples, family get together, and guys trip! Adult classes (8 and up to 17 years old need adult supervision)
Informative! Each class includes a discussion of ingredients and a time to taste in order to understand the value of using flavorful ingredients and using traditional methods.
A comfortable place to learn! You'll get one-on-one instruction and all of your questions answered.
Guaranteed to fill your belly! Not only will you be served a wurst meal, 1 free drink ticket, a Wurst Haus goody bag, and you take home approximately 20 pounds of retail pork cuts that you helped make in class.
Deals! Participants receive 10% discount on in-store purchases that day (excludes liquor and any in-store specials).
Fun! Guaranteed!
Tickets are $150 per person.

Call 573-486-2266 to reserve your spot or register online here.
2022 Whole Pig Butchery Class Dates:
January 7 -- Friday 6 pm Register HERE

January 28 -- Friday 6 pm SOLD OUT

April 15 -- Friday 6 pm Register HERE