Craft Beer
Hand crafted and locally produced from the finest ingredients, the brew master created these German beer styles to pair with the most flavorful of our 47 different flavors of state and national champion smoked brats.
Wurstmeister Mike loves a good craft beer with his bratwurst. He decided to create his own line of beers to serve with his gourmet bratwursts. The brew master and he carefully selected four German beer styles that would match well with the gourmet bratwursts selection. The craft beer names are unique and historical, incorporating Mike's passion and Hermann's history.
So what is the difference between ale and lager beers?
Basically, the difference between the two is that they are fermented with different groups of yeast.
Ale yeasts typically ferment at warmer temperatures and are top fermenters, meaning the yeasts hang out at the top of the fermenter during fermentation. So ales, have a more yeast driven flavor profile, which is more complex with spicy and fruity flavors.
Lagers are fermented with cool fermenting yeasts, which are bottom fermenting yeasts, which hang out in the bottom of the fermenter during fermentation. The flavors developed are less yeast driven flavors, but more clean-tasting with grain and hop flavors.
The best thing to do is taste test them side by side to understand the different flavor profiles. Heck, come in and try all four flavors.
Our four flavors: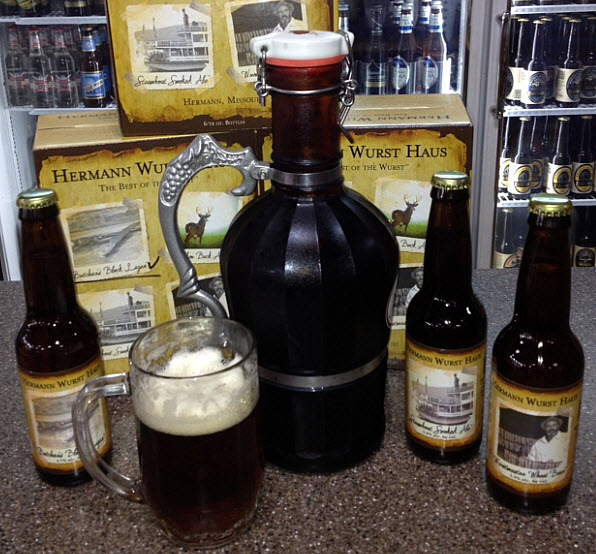 Wurstmeister Wheat is a German-style Hefeweizen that's great with a lemon slice.
Steamboat Smoked Ale has a black and smoked malt flavor that pairs perfectly with any smoked meat.
Butcher's Block Lager is a crisp, light-bodied Vienna-style lager.
Golden Buck Ale is a German-Style Dark Amber known for its high alcohol content.
The beers are available by the bottle for $5.00, or on draft for $5 for 16 oz. cup
What could be better than a brat and a beer!
We also have domestic beers available; Budweiser, Bud Light, Michelob Ultra, Miller Lite, Coors and Bud Select.

Craft Soda
Our craft soda is hand-batched by a local company, using traditional recipes with high quality ingredients. We use cane sugar to produce a soda with a richer, more flavorful finish.
Our five flavors:
Root Beer, has a touch of vanilla, tastes like old fashioned homemade root beer
Cream, creamy vanilla flavor with hints of caramel and molasses
Orange, delicious juicy flavors, triggers memories of childhood
Grape, packs a great grape flavor punch!
Black Cherry, reminiscent of fresh picked cherries
Lime, crisp and refreshing